Often when editing text, especially if you are a professional writer, you need some statistic information about the text you're editing, like how many paragraphs or words you have already typed. While most desktop text editors, such as Microsoft Word 2010, provide you with such information, many Content Management Systems don't offer such functionality. SharePoint Server 2010 is not an exception here. So if SharePoint is the platform for professional publishing it should contain this little nugget as well. Proudly presenting: Mavention Word Count.
Counting word with Mavention Word Count
Mavention Word Count is a SharePoint 2010 Sandboxed Solution that allows you to find out how many words, characters and paragraphs there are in your content. After uploading and activating the Solution a new Site Collection Feature called Mavention Word Count is installed. After you activate it, a new button will appear on the Ribbon, on the Format Text tab.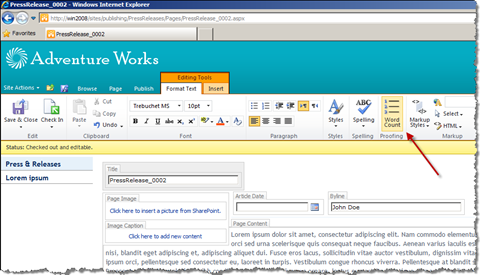 After you press the button, Mavention Word Count will calculate the statistics from the active Rich Text Editor and will present them to you in the Status Bar.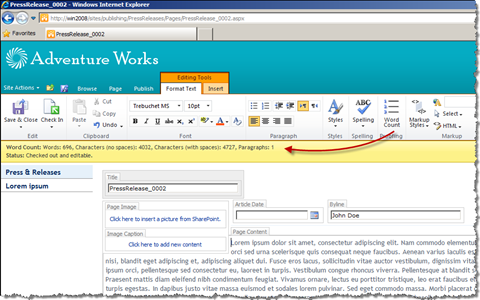 And that's all to it!
Download: Mavention Word Count (2KB, WSP)
Technorati Tags: SharePoint 2010,WCM