If you are a member of the Dutch Information Worker User Group (DIWUG) community and you have a Windows Phone 7 this app is a must have: the DIWUG app!
The DIWUG event app allows you to view the information about the upcoming DIWUG event.
First, after starting the app, you can quickly see the general information about the event: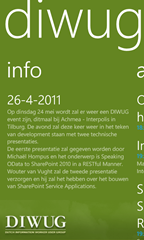 From there you can browse the agenda: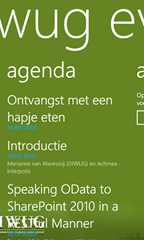 If the DIWUG event sounds interesting enough to you, you can register for the event.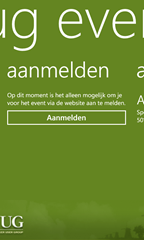 At this moment it is possible to register only via the DIWUG website, but in the future we will definitely be exploring other possibilities to make the registration process even easier.
After registering you can swipe further to see the address of the venue hosting the DIWUG event: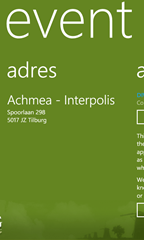 Also for this page we have some ideas for improvement. How would you like it if you not only could see the address but also could calculate the route using Bing?
About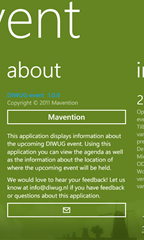 The DIWUG app is a Windows Phone 7 app created by Mavention in cooperation with the Dutch Information Worker User Group. It is a free app and it's available to everyone who owns a WP7 device. The main idea behind the app is to make the information about DIWUG events more accessible to everyone who wants to participate in the Dutch SharePoint community.
This is the very first release of the DIWUG event app. And although we have some ideas for the next version of our own, we cannot do it without you. We need your feedback to make this application more useful, for you. If there is anything that you would like to see in the next version or you have any other feedback don't hesitate to contact us: no matter if it's via comments under this post, the DIWUG site, the Mavention site, the support link in the app, Facebook, twitter or any other way you can think of. We will get sure that the comment will get to the right people on the team so that we can improve the app.
Technorati Tags: DIWUG,Windows Phone 7