When creating new content you can create new page from scratch but if the content is very similar to an already existing page you might as well start by copying the existing page. Find out how to easily duplicate Publishing Pages with Mavention Duplicate Page.
Creating content in SharePoint 2013 Web Content Management
One of the steps in the content management process is content creation. When working with public-facing websites in SharePoint 2013, content is often represented by Publishing Pages. Even though with the new search-driven publishing capabilities we can more easily publish any structured content on a website, leveraging Publishing Pages offers us a great way for tailoring the content authoring experience to the needs of the content management team.
When creating new content you can either create a brand new page or copy an existing one and use that as a blueprint. The latest is particularly the case when working a lot with similar content such as event announcements, but also if you would like to help your content management team with creating new content by providing them with a pre-filled page where only the details need to be changed in.
Inconvenient duplicating content with SharePoint 2013
Although duplicating Publishing Pages in SharePoint 2013 is possible, it works rather inconveniently. Using the standard SharePoint 2013 functionality, duplicating a Publishing Page can be done in two ways: either from the Explorer View or by using the Content and Structure Tool.
The problem with using the Explorer View is, that it's not customizable and if you have a lot of pages you might have difficulties finding the one you need. Not to mention that in order to use it you have to leave the web browser switching your work context altogether.
The Content and Structure Tool has been present in SharePoint for a while now and has had nearly no updates since its release in 2007. Although it allows you to copy pages, it requires you to copy the page to a different location. So if you were to duplicate a Publishing Page, you would first have to copy it to a different location, change its name there and then move it back to where it's supposed to be located in the first place. This is quite a poor experience for an action that is supposed to simplify the content creation process.
Luckily there is an alternative.
Easy duplicating Publishing Pages with Mavention Duplicate Page
Mavention Duplicate Page is a no-code SharePoint 2013 Sandboxed Solution that allows you to duplicate a Publishing Page with a single mouse click.
Upon installation a new action called Duplicate is added to the callout of each Publishing Page.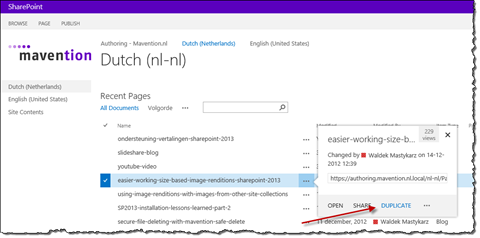 After you click it, the page of your choice will be duplicated and the List View will get refreshed so that the newly duplicated page becomes visible.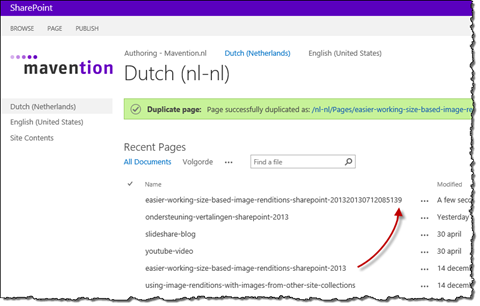 In case you're working with a List View that isn't sorted descending on date, there is a chance your newly duplicated page might not appear in the List View. To help you find the duplicated page, the status message confirming the successful creation of the Publishing Page contains a link to it, that you can use to navigate to your page and finalize the content creation process.

A few things to keep in mind
To prevent duplicated pages to automatically appear on your live website, the duplication process looks as follow: Mavention Duplicate Page will first check out the page to be duplicated, then it will create a copy of it, and then it will undo the check out. In this way, the original page will remain unchanged and its duplicate will remain invisible to the visitors until explicitly published by the content management team. For this process to work correctly however, the page to be duplicated must be checked in. Otherwise you will see an error message similar to the following:

When duplicating a page an exact copy of it is created in the same Pages Library, including all content and Web Parts. One of the capabilities of SharePoint 2013 is the ability to enforce unique values on certain fields. Unfortunately, if this option is enabled, it will prevent you from duplicating pages, as two pages with the same value cannot exist in the same Pages Library.

Summary
Creating content by duplicating similar existing pages can help you shorten the content management process. Using Mavention Duplicate Page you can easily duplicate an existing Publishing Page and use it as a blueprint for your new content.
Download: Mavention Duplicate Page (no-code Sandboxed WSP, 2KB)