When working with content there are often situations when you need to insert a symbol such as a copyright or a trademark sign in content. If you are editing content directly in SharePoint there is no easy way for you to insert such symbol. You have to copy the symbol from another place and paste it in SharePoint. If this scenario sounds familiar to you, then the Mavention Insert Symbol solution is just the right thing for you. Find out how to insert symbols in content in SharePoint 2010 the easy way with Mavention Insert Symbol.
Mavention Insert Symbol is a Sandboxed Solution for SharePoint 2010. Upon activation of the Solution a new Site Collection Feature is installed.
After you activate the Feature, the Insert Symbol button will be installed on the Ribbon.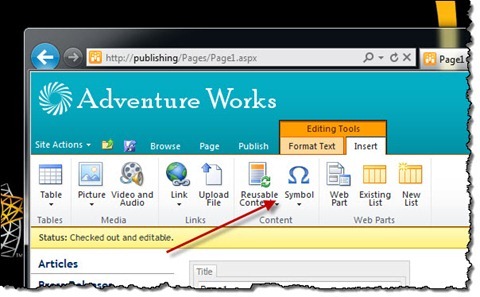 Whenever you're editing content and need to insert a symbol all you have to do is to click the Insert tab, go to the Content group, click the Symbol button and choose your symbol.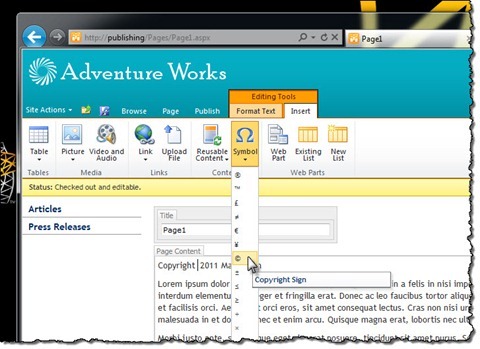 After you click on a symbol it will be inserted at your cursor.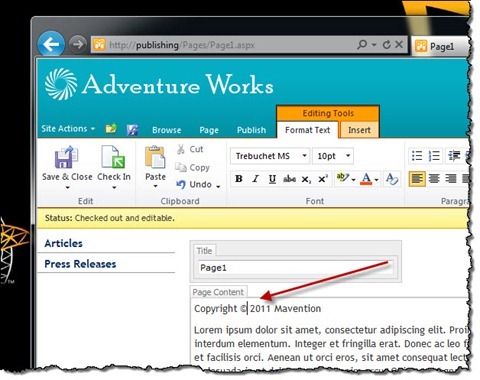 Download: Mavention Insert Symbol (5KB, WSP)
Technorati Tags: SharePoint 2010