Recently I published a new extended version of the Content Query Web Part. I extended the SharePoint 2010 version of CQWP with support for paging the results which is one of the things that our customers ask for very often. But that's not the end of the extensibility possibilities of the CQWP. In this version I extended the Imtech Content Query Web Part even further by adding additional capabilities which make working with the CQWP even easier. Introducing: Imtech Content Query Web Part v14.2!
The first version of the Imtech Content Query Web Part that I published was focused around support for paging. Next to that I added a custom Editor Pane that makes it easier to hook up custom XSLT stylesheets.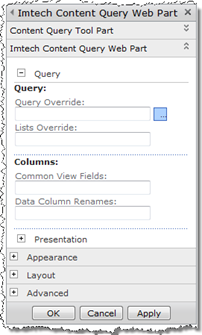 In the second version I extended the CQWP even further. This time I focused on working with custom data. The new section in the Imtech CQWP Editor Pane allows you to specify custom query and should you need to include some custom columns the old way, you can use the Common View Fields and the Data Column Renames properties.
One more thing that I added are custom XSLT functions from the EXSLT namespace. I've used those really a lot in the most of MOSS 2007 projects that I worked on, so they will probably get very handy in SharePoint 2010 as well. And should you still be missing something, you can always extend the Imtech Content Query Web Part further and add your own functionality.
Check out the new version of the Imtech Content Query Web Part on CodePlex.
Technorati Tags: SharePoint 2010,SharePoint Server 2010,Content Query Web Part