Testing the editors area in SharePoint 2007 isn't really convenient. Image you would like to check whether the overview Web Part you have made really shows 100 items per page. Copying the items in the Explorer View might be a solution, still it's that handy when it comes to testing various Content Types and Page Layouts. Another scenario you might want to test is scheduling: does my page become available at the given timestamp? Yes, you can test this using the SharePoint 2007 interface, but still I think it can be done much easier.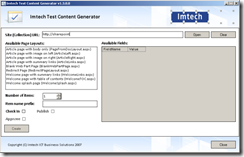 When it comes to testing custom Web Parts, overviews and the rest of the editing features within SharePoint 2007 I have developed Imtech Test Content Generator v1.3.0.0: a tool which helps me creating a given number of pages. As parameters I can set the desired Page Layout and content within the page. One click on a button, a cup of coffee and a couple hundred of items are there for me: Checked In, Published or even Approved if I want to.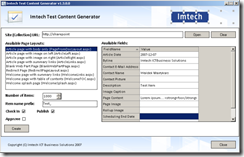 Imtech Test Content Generator v1.3.0.0 is free and you can use it without any restrictions.
Download Imtech Test Content Generator v1.3.0.0 from our CodePlex site.