Office Delve allows you to easily discover new documents relevant for you. But how do you keep track which documents you have already seen and which are new?
Discovering relevant content with Office Delve
Recently Microsoft released Office Delve – an application in Office 365 that allows you to discover content relevant for you. Office Delve uses activity recorded by Office Graph to find out about what content is trending around you and people you work with and uses a specific ranking model to determine which of those would be the most relevant for you.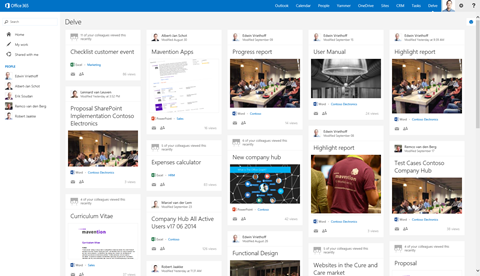 What's new?
The only challenge about using Delve is that it currently doesn't distinguish between documents that are new and documents that you have already read. As a result: how do you know if there is any new content that you should read?
Keeping track of new trending documents with Mavention Popular Documents
Mavention Popular Documents is a free App for SharePoint that shows you documents relevant for you – just as Delve does on the Home board. What distinguishes Mavention Popular Documents from Delve is that the cards representing documents that you have already read are greyed out so that you can easily keep track which documents you have already seen and which are new.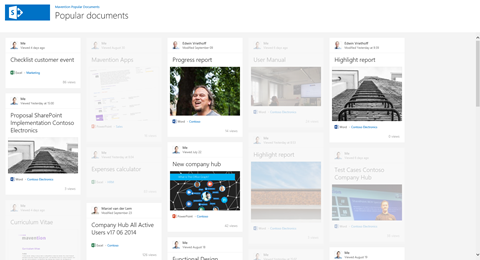 If a document gets modified after you have seen it, its card will become fully visible again indicating that you should go back to that particular document.
Important: only you can see the list of documents that you have viewed. The Mavention Popular Documents App for SharePoint does not store or transmit any personal information or information about the documents that you viewed. All the information presented by Mavention Popular Documents is retrieved from Office Graph and is therefore security trimmed allowing you to only view documents that you have permissions to access.
With Mavention Popular Documents you can more easily follow new content important for you and spend your time more efficiently on the documents that you haven't seen yet.
Install the free Mavention Popular Documents App for SharePoint from the Office Store