When working with many different documents you can easily loose track of which documents you have seen and where in your portal they were located. Particularly with the recent release of Unified Groups in Office 365 there is one more place where your documents might be stored and up until now there was no easy way of finding your documents.
Where are my documents?
With the release of SharePoint 2013 and its improved search capabilities it's been more and more tempting to pay less attention to where a particular document is stored. Instead you would trust SharePoint Search to find the documents for you. This works as long as Search in your tenant is configured correctly and you know just the right keywords to find your document quickly. As you can imagine, the reality is different and often it takes more time than necessary to find back the document that you have seen.
Office Graph – it's more than search
The recent release of Office Graph in Office 365 changes the way in which we find documents. Recording our activity while we're working, it allows for extending standard search capabilities with social information and acitivities. As a result with the help of Office Graph you can easily find documents trending around you or people you work with, or… get a list of documents that you have recently viewed.
Easy finding back your documents with Mavention Documents I Viewed
Mavention Documents I Viewed is a free App for SharePoint that shows you an always up-to-date overview of the documents stored in Office 365 that you have recently viewed.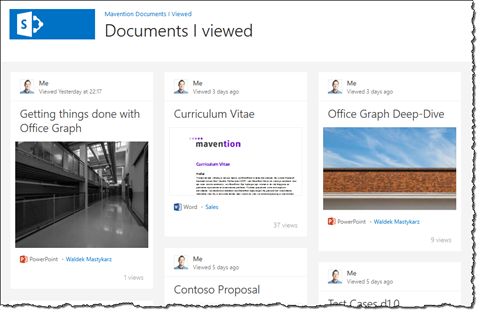 Using signals recorded by the Office Graph, Mavention Documents I Viewed allows you to open documents that you have viewed recently with a single mouse click.
Important: only you can see the list of documents that you have viewed recently. The Mavention Documents I View App for SharePoint does not store or transmit any personal information or information about the documents that you viewed. All the information presented by Mavention Documents I Viewed is retrieved from Office Graph and is therefore security trimmed allowing you to only view documents that you have permissions to access.
Install the free Mavention Documents I Viewed App for SharePoint from the Office Store