What if you opened a new team site on your intranet and would immediately know what it is about? What if you were writing a report and you would get suggestions about similar reports in your organization? What if you had an appointment and you would get suggested resources to help you prepare for it?
We use software to communicate, present our ideas and collaborate. While we're surrounded with information, we struggle to find the pieces relevant to our work. It's surprising that we're utilizing so little of the software that we use in our work, to help us do our job. What if I told you that there is a virtual assistant available in your organization that can help you become more efficient?
A while ago Microsoft released Delve - a dashboard that helps you stay in the know. By showing you the relevant content from across all of Office 365 Delve makes it easier for you to keep track of what is happening in your organization. But Delve is a destination - a place you have to go to. And Delve doesn't necessarily know what you're currently working at. Delve is useful, don't get me wrong, but it's not your personal assistant. But there is something very close to it that just might be.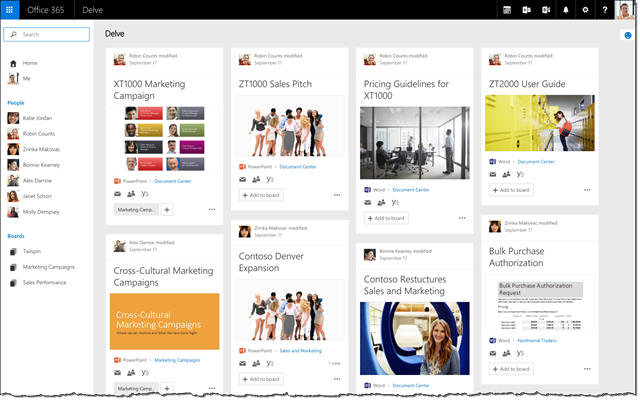 Meet the Office Graph
Delve is built on top of the Office Graph - an intelligent fabric in Office 365 that keeps track of all you work and which uses machine learning to build a network of relationships between the different objects. Besides powering Delve, the Office Graph offers an API that you can use to build contextual experiences to help you become more efficient at your work - a virtual assistant always one step ahead and at your disposal.
Building contextual experiences with the Office Graph
Since the Office Graph is already keeping track of who is doing what, it's relatively easy for it to tell what has been happening in a particular site recently and whether it contains any relevant information that you are looking for.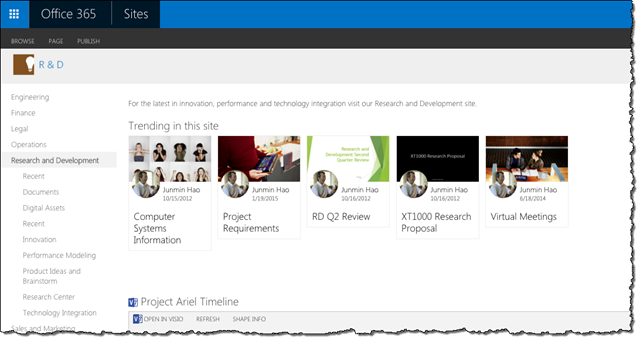 What about that report that you are writing? Office Graph knows which documents you have viewed and modified recently. Simply provide it with keywords and it will come up with suggestions of similar reports that you could use as resources.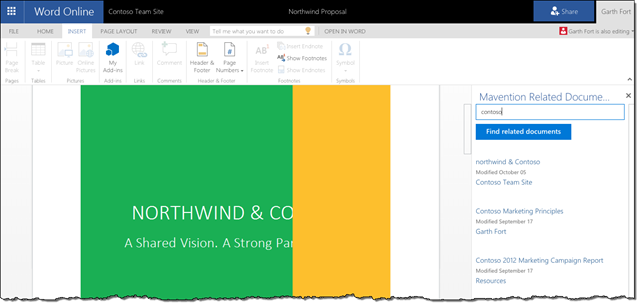 Meetings: we all have them regularly in our agenda and we probably all agree that the best meetings are those where everyone attending is well prepared upfront. Unfortunately preparing for a meeting is time consuming, particularly in this era of information overload. What if I told you that the Office Graph can use the information from its network to automatically come up with suggestions of resources that will help you prepare for the meeting.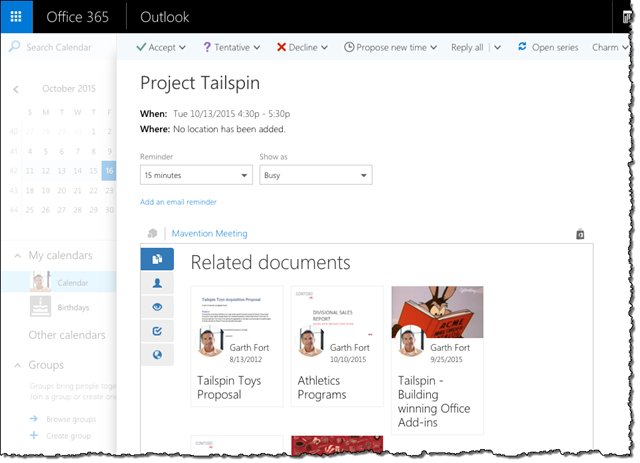 Start using it today
The Office Graph API is available today as a beta as an extension of the SharePoint Search API. Even though the API hasn't been officially released yet, it already offers powerful capabilities that you can use to build rich solutions. While one might argue whether it's worth it to invest in building Office Graph solutions today, it's good to start thinking about the different scenarios of how you could utilize the power of the Office Graph in your organization.
Go to dev.office.com/officegraph and start exploring the possibilities for using the Office Graph in your organization today.