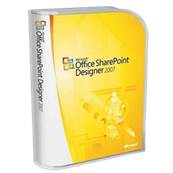 SharePoint 2007 is a really great application development framework. While the framework is rich and contains plenty of controls which can be incorporated in the custom solutions, there are quite often situations when you need to create custom controls. Most of the time the developers and consultants focus on the functionality, forgetting that, depending on the solution, the customer might require to be able to use the custom controls in SharePoint Designer (SPD). It turns out that making the custom controls "just work" doesn't necessarily mean that they will properly function inside SPD.
Robert Chen of the Microsoft SharePoint Designer Team has yesterday shared with the SharePoint community some really valuable tips on how to make the custom controls work inside of SharePoint designer.
As long as I've been working with SharePoint solutions I haven't heard even once that a customer would explicitly ask the developers to create controls which he could then use inside SharePoint Designer. It seems like the knowledge about how "proper" controls should work lacks at both customers' and consultants'. After having read Robert Chen's article I think that it's not a matter of selling support for SharePoint Designer as an extra requirement. Personally I see it as a part of quality management: you just cannot deliver something that works partly. SharePoint Designer is a great tool and there are plenty of various scenarios in which it can be used better than anything else. Let us all take care that the custom code we create properly leverages the SharePoint development framework.
Technorati Tags: SharePoint, SharePoint 2007, MOSS 2007, SharePoint Designer