Although Office 365 offers an optimized UX for mobile devices, have you noticed that it doesn't offer the ability to search for information?
Inconvenient mobile devices or is it just SharePoint?
More and more mobile devices are being used to access information. Mobile phones become more powerful and are simply a convenient way to quickly lookup information on the go.
Microsoft acknowledges this trend and provides us with a mobile phones-optimized UX for working with Office 365.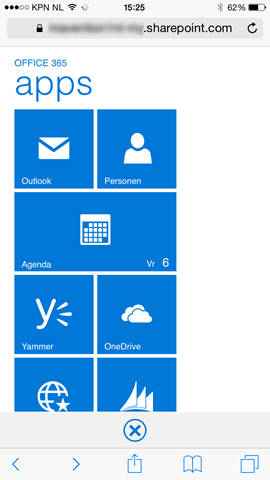 Although this user experience offers easy access to the most common Office 365 apps, have you noticed that there is no easy way to search for information from your mobile phone? So unless your organization portal has been optimized for mobile devices you would have to use the standard SharePoint search experience on your mobile phone which is painful to say the least. There is however a better way to search for information in your portal on a mobile phone.
Easy searching in SharePoint with Mavention Mobile Search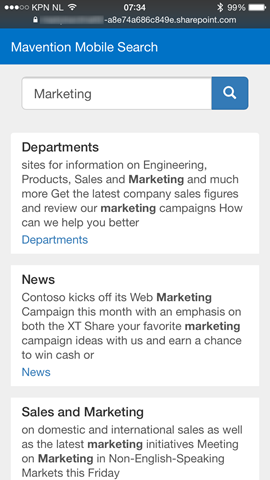 Mavention Mobile Search is a free SharePoint-hosted app that allows you to quickly search for content stored in your SharePoint tenant. All you need to do is to install the app from the Office Store in your portal and share the link to the app with your users. Once they open the app on their mobile device and pin it to their home screens they will be able to search in the company portal with a single finger tap.
Designed for mobile
SharePoint 2013 Search offers rich capabilities and while we could have implemented all of them in Mavention Mobile Search we chose optimization for mobile experiences instead.
The first thing that you will notice after loading the app is the simplicity of its user interface. The app does one thing and one thing only and it's to help you find the content that your are looking for.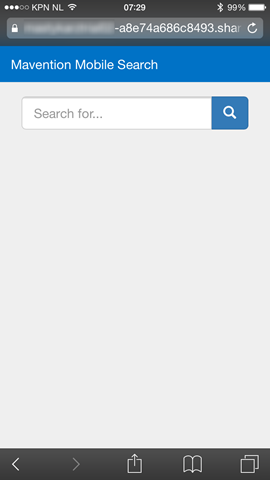 Already after your first search query you will notice that the app is faster than the standard SharePoint user experience. Thanks to its simplified UI and rendering the app loads fast and once it's loaded, it's only the raw search data that is transferred to your mobile device.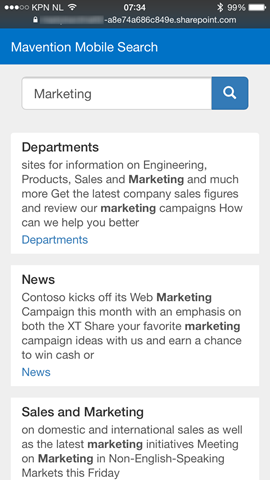 When searching for the right content it might just happen that you won't find what you are looking for right away. Mavention Mobile Search allows you to load additional search results simply by scrolling further down the page (also known as infinite scroll).
Mavention Mobile Search is built using Bootstrap and KnockoutJS and works on all mobile phones and different form factors so no matter if you are using a small Android device or the new iPhone 6 Plus the app should look great on your device.
Install the free Mavention Mobile Search app from the Office Store.