SharePoint makes it easy for you to follow sites. But how do you keep track of the relevant content in all those sites?
So you follow a site
SharePoint allows us to follow sites. Originally the idea was to leverage this ability to keep track of work done in those sites. Through the Newsfeed we would get updates whenever something would happen in a site that we follow. This approach was widely used to stay on top of work of project teams or departments.
A while ago Microsoft decided to use Yammer for social capabilities rather than the set of features delivered with SharePoint. As a result following sites became nothing more than a list of bookmarks that you can use to quickly access your sites.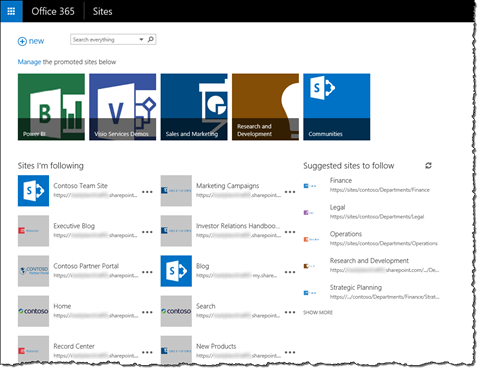 Luckily we still have access to the API that we can use to turn the ability to follow sites into something useful. Particularly when combined with the recently released Office Graph it offers invaluable insights in what the particular group of people is working on at the moment.
Stay in the know of the relevant content in sites you follow
Mavention Trending in My Sites is an App for SharePoint that shows you what content is trending in sites you follow.
After starting the app you will see on the left-hand side the list of sites you follow. After selecting a site, all trending documents will be shown as the familiar Delve cards.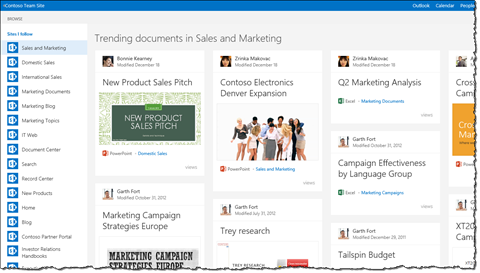 At a glance you will see what the members of that particular site are working on currently. Not only it will allow you to stay in the know of the work that's being done but you will also be able to proactively help your colleagues and make a better use of existing knowledge.
Below the list of the sites you follow, Mavention Trending in My Sites also shows you the list of sites recommended to you to follow. By selecting each of them you can see whether the members of that site are currently working on something that might be relevant to you and if it would be useful for you to follow that site as well.
How it works
Mavention Trending in My Sites combines the information about the sites you follow and information stored in the Office Graph to show you trending content in the particular site.
By getting the list of members of the selected site it queries the Office Graph for content stored in that site trending around its members. Using the recently documented actorCombination parameter it combines the trending scores for all members and as a result the most actively used documents are showed first giving you a better idea what is being worked on in that particular site.
Start using it now
Install the free Mavention Trending in My Sites App for SharePoint from the Office Store.