Back in May this year Joel Oleson has put together a list of the top 100 SharePoint blogs. That top 100 is ordered by the Technorati Rating (Rank) of each blog participating. Joel is planning to do an update soon, so come on and improve the ranking of your blog so you can make it to the top 100 too.
Technorati Blog Info Vista Sidebar Gadget v1.0.0.0

Sure you can surf to the http://www.technorati.com/blogs/yourblog each time you want to check the ranking of your blog. But don't you think it's way cooler to have it updated automatically and displayed on the Vista Sidebar?
If you're interested all you need is the Technorati Blog Info Gadget I have made.
As it's a .gadget file the installation is straight-forward. Upon adding it to your Sidebar you should see something like this: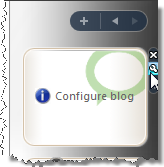 In the gadget's settings you need to provide the URL of your blog as registered @ Technorati, for example blog.mastykarz.nl (it doesn't matter if you put http:// before or not). Optionally you can configure how often do you want the gadget to retrieve the fresh information about your blog from Technorati (By default it's set to 30 minutes. You can refresh the information manually as well, by double clicking anywhere on the gadget.).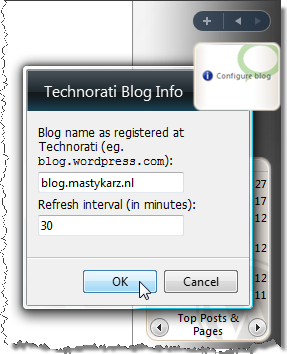 If you have provided a valid URL, you should see the Technorati information for your blog: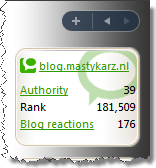 Download: Technorati Blog Info Vista Sidebar Gadget v1.0.0.0 (44KB)
Download: Technorati Blog Info Vista Sidebar Gadget v1.0.0.0 (Live Gallery)
Technorati Tags: Technorati, Vista, Gadgets