I use Windows Live Writer to post on my blog. Sometimes I just miss the Replace functionality which in my opinion is a must-have of each content editor - even the Notepad proves it. If I'm not wrong the Live Writer development team has promised to include the Replace in the next version. As a developer you have two options: waiting or just doing it yourself. I have chosen for the second one....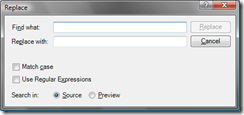 The Find & Replace Plugin I have made support plain search as well as Regular Expressions. Furthermore you can do a replace on the Preview (F11 View) or the Source (SHIFT+F11 View).
You can download the Plugin from our CodePlex site. I have posted it to the Live Writer Plugins gallery as well, but I don't know how long will it take to have it published. In the meanwhile be the first one to have it: Imtech Find & Replace in Windows Live Writer.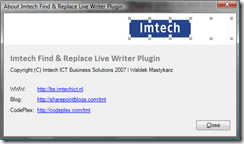 I have wrapped the Plugin in an MSI installer. Just run the setup and the Plugin with be automatically put in the Plugins directory of Live Writer.