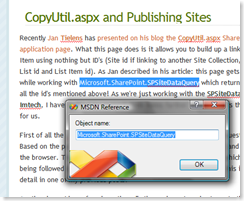 If you are a .NET developer and blog about your challenges using Windows Live Writer this plugin is definitely for you.  What it does is it picks up the selected text and creates automatically a link to the right page at the on-line MSDN reference. The plugin works both with selected text but it allows you to type the object name in its dialog window as well.

~~I have already submitted the plugin to the Live Gallery. If you don't want to wait,~~ You can download it from our CodePlex site or .
The plugin has an installer, so it will be automatically added to your Live Writer plugins.
Technorati Tags: Windows Live Writer, Live Writer Plugins, Live Writer