May 11, 2008: New version available (1.3.0.0). More information
Last year in august I have published the first version of Imtech Fields Explorer: a little utility which allows you to explore Site Columns and Content Types of a Site (Collection). Personally I find the tool very useful, especially while working with Page Layouts or any other assets which require internal field names or ID's.
After using the Fields Explorer for a few months now I realized that it was missing quite an important functionality. Imagine that you could not only explore the Site Columns and Content Types but export their definitions as well!
While thinking on the missing export functionality I stumbled (once again) upon the AC's WCM Custom Commands for STSADM.EXE by Andrew Connell (the guy whose blog obviously saves lives) among which the commands to export Site Columns and Content Types. After discussing the idea of combining the two utils I've got a green light from Andrew.
The major improvement of Imtech Fields Explorer v1.2.0.0 comparing to its previous version is the possibility to export the definition of Site Columns and Content Types. You can do it in two ways: either by clicking right mouse button on a particular Site Column/Content Type and choosing Export to XML or selecting multiple items and exporting them using the Export button.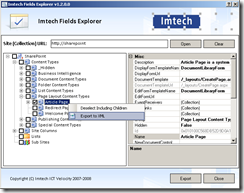 The exported definition can be directly used in your custom Features and contains in some cases more details than needed. As Andrew says: it's easier to delete the things you don't need than adding the missing properties yourself.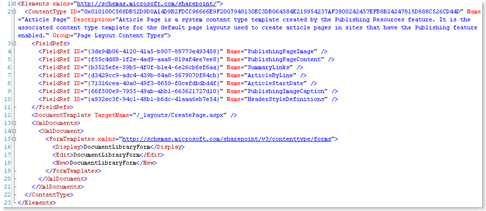 If you use Andrew's WCM STSADM commands and yet you're more of a GUI than STSADM guy, it's definitely for you. Imtech Fields Explorer v1.2.0.0 remains a free utility and you can use it without any restrictions.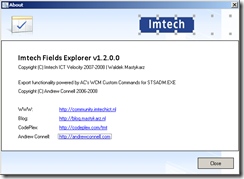 Download Imtech Fields Explorer v1.2.0.0 (62,4KB)