A few weeks ago I published an extension for the new Visual Studio SharePoint development tools that simplifies working with SPMetal. Upon installation the extension adds a menu to every Site node in SharePoint Explorer. Using that menu option you can generate the SPMetal definition just as if you would use the SPMetal command line interface itself.
While the extension worked correctly, the problem was that the generated definition contained classes for every single list in the given site: in most cases way more than you need – as fellow SharePoint MVP Scot Hillier pointed out. To fix this issue I extended the extension with support for SharePoint Lists.
In the new version 1.2 the extension also adds a menu item to every List allowing you to generate an SPMetal definition for that particular list only.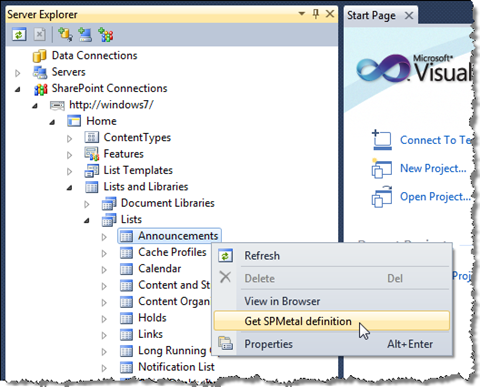 Thanks to Scot Hillier for the idea and feedback!
Download: Imtech Get SPMetal Definition Extension from Visual Studio Gallery or search for Imtech Get SPMetal Definition Extension from the Visual Studio Extension Manager.
Technorati Tags: SharePoint 2010,Visual Studio 2010