Recently I wrote about how Mavention Search and Replace can help you ensure consistent usage of brand names across your website. What if what you're looking for is a more direct feedback, such as the one you get with spell checking?
Brands brands brands
Nowadays, where markets are filled with similar products, it's more important than ever that your products and services are correctly branded. Branding an offering properly can make a difference between getting customers or not. Many organizations have dedicated departments responsible for branding of products and services. What they come up with has to end up published properly in all different media including the website. Consistently branding products and services becomes more challenging as soon as the marketing organization becomes decentralized and marketing and sales content is delivered by other parties.
Mavention Search and Replace – bulk consistency
In one of my recent articles I presented you the Mavention Search and Replace solution and how it can help you ensure consistent usage of brand names throughout the whole website. Mavention Search and Replace offers you the most added value for changes affecting many pages. With a single mouse click you can ensure that all content on your website is branded properly.
The way that Mavention Search and Replace works is that it scans all pages within your Site Collection for terms specified in the Search and Replace list and replaces them with other terms as specified in the list. By default the search and replace process runs as once a night as a scheduled task. And although it's possible to run the search and replace process on-demand, searching in all publishing pages within a particular Site Collection is resource consuming. While there are valid scenarios when search and replace throughout the whole site makes sense and is exactly what you want, there are also situations when some more direct feedback is what you might be after.
Spell checking… brand names
One of the content management capabilities of SharePoint 2010 is the built-in spell checker that you can use to verify that words in the content on a particular page are spelled correctly. Whether you have started the spell check yourself or you were publishing a page you can instantaneously see if there are any spelling errors in your text.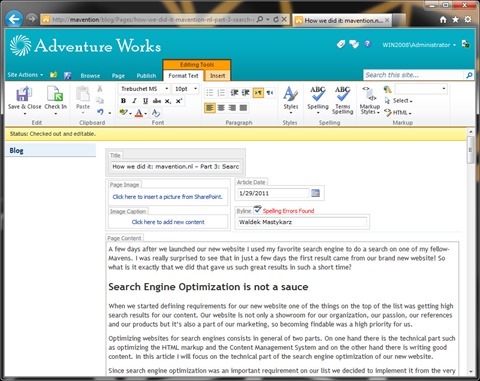 Wouldn't it be great if you could leverage the experience of the standard SharePoint 2010 spell checker but then be able to check the spelling of multi-words brand names as well?
Spell checking brand names with Mavention Spell Check
Mavention Spell Check is a SharePoint 2010 no-code Sandboxed Solution that allows you to check the spelling of multi-word expressions such as brand names.
Mavention Spell Check works similarly to the Mavention Search and Replace solution I wrote about recently. Upon installation a list called Spell Check Terms is created in the Root Web of your Site Collection. In this list you define the names of brands and products and their frequent incorrect spelling variants.

Once the brand names have been defined you scan start using the Mavention Spell Check solution. While editing the content of a Publishing Page a new option called Terms Spelling becomes available on the Ribbon.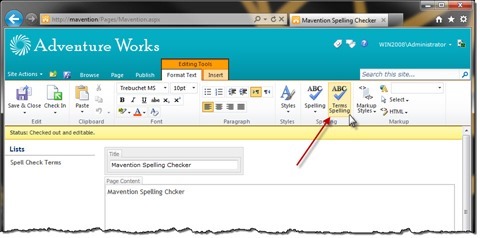 After you click the Terms Spelling button Mavention Spell Check will start checking the spelling of all terms defined in the Spell Check Terms list. All incorrectly spelled words will be highlighted – similarly to what you see after running a regular spell check.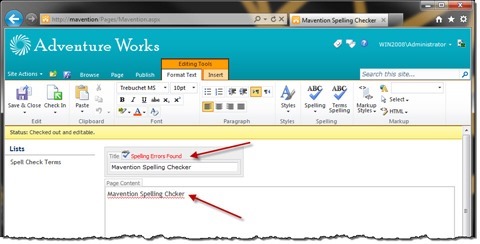 If you click on an incorrectly spelled word in the Rich Text Editor, you will see a context menu with the spelling suggestion retrieved for that word from the Spell Check Terms list.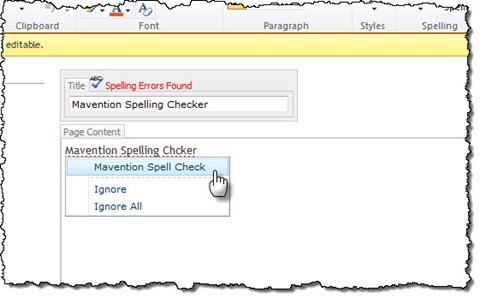 Spelling errors in other fields are indicated by an error message next to the field display label.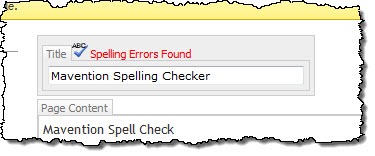 When you click on the error message all incorrectly spelled terms will be corrected.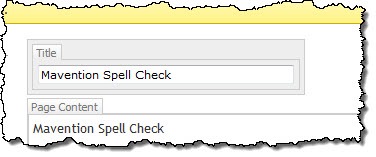 This works differently than the standard SharePoint 2010 spell checker. SharePoint uses a separate dialog window to correct spelling mistakes in text fields. That window uses the spelling web service. Although the mechanism is extensible web services cannot be deployed using Sandboxed Solutions. Currently we're looking into making Mavention Spell Check extensible so that if you can use Farm Solutions you can deploy the Mavention Spell Check Web Service and make Mavention Spell Check use it.
Download
Mavention Spell Check is a free SharePoint 2010 no-code Sandboxed Solution that you can use without any restrictions.
Download: Mavention Spell Check (5KB, WSP)